Setting the theme apart from the classic pokies is easy to see, as video pokies offer a lot more when it comes to special bonuses and surprises. All video pokies will usually have at least 5 reels instead of 3 reels. They offer free spin rounds and bonus game extras. Most of them will have a gamble option that offers the recent winnings to earn up to double or quadruple the amount for a correct guess as well. But it doesn't stop there folks! These types of pokies certainly have loads of paylines that can be wagered to you personal liking. Incredible graphics and sound including the newest of these versions are the 3D pokies!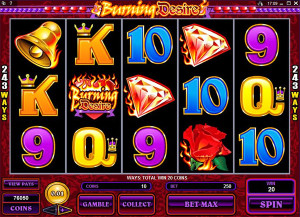 What sets the video slot machines in motion are the paylines and wager amounts which are set up before a game can start. You decide on the amount of lines that you may cover, and what is more interesting is the amount of coins per line that increase bigger payout results!
You can always find simple video pokie machines that cover at least 5 paylines, however a video poker machine can allow as many as offered. Perhaps 100 or more is possible, and many of these are still using pennies per line. These paylines are perfect for connecting wild symbols, and every bonus icon which many cross a payline route. What better way to increase you odds of a single spin!
Back in the mid 70's and early 80's, the graphics and sound of a video pokie was pretty crude and electronic sounding. In Australian casinos you would hear those electric bells and tin-can sound effects. With the advent of sound bytes stored in the game program nowadays, incredible sound effects and music will entertain you while you play. In many cases, these effects combine with amazing animations which look as if they leap off the screen whenever a win happens. Loads of new pokies have custom music and effects created just for each title game itself. Many of the movie themed video pokies have short clips or sounds from the actual film itself.
What video pokie doesn't offer bonus games and extras? The fact is that every video pokie has special symbols which increase potential line wins. This concept captured the imagination of American players when the second screen bonus game was introduced around 1996 with the hit: ˝Reel 'Em In˝. Though this was actually the original treat that Australians got to play first in 1994, with the ˝Three Bags Full˝ video pokie! Ever since then, the bonus round has been a common sight for all bonus games. You'll also find the free spin games, multiplier symbols, and even gambling bets. With so many extras in a single video pokie, what more could you want? Use Neosurf prepaid cards to make your first winning deposit!
It wasn't until the mid-2000s that 3D pokies hit the market for the first time. These unique styles offer the player a kind of game which looks very much like an animated movie that also offers a potential pay for winning on the reels. Their sharp and detailed graphics go far beyond the video pokie games, and allow instant player integration for bonus games. Sounding like a very fancy video game, the 3D pokies are the latest innovations that have become incredibly popular in a very short time. And thought the games are similar to video slot pokies, the action and thrills from playing a 3D pokie never allow the player to be bored from so much interaction by the game itself. If you're ready to see the future you have to try our selection of the latest titles just for fun!
Mentés