As far back as they go, the most celebrated of the pokies are no doubt known as the Classic Pokies. What sets these apart from any other kind of so-called 3-reel is easy to spot. Classic pokies are timeless to the industry, since they echo the very original machines found in pubs and casinos across the world. The simple design and tongue-in-cheek game titles often carry a player away for hours of nostalgic spins, and hopeful productive wins. Not every pokie has to play a single coin spin, many modern versions allow more coins and extra paylines too. Try playing for real with Neosurf vouchers.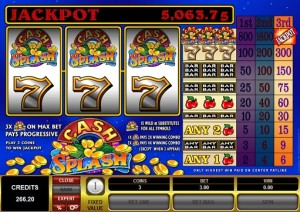 The earliest history of how pokies came to be known is thought to have started in New South Wales sometime in the 1970's. The new versions of video poker machines in those days were often called a pokie machine by the local casino customers. This later became a popular slang used in plural to describe any kind of fruit machine or video slot. The name: ˝Pokies˝ simply stuck and history was thus created. Australia and New Zealand are the only countries that use this slang making it exclusive to these regions.
What you can always expect to find in a classic pokie game are fruit symbols, bars, and 7's. Just like the old versions of the one-arm bandits, these symbols came to represent symbols of luck. It wasn't until later that fruits were added, however most agree a pokie without fruit just seems out of place. Many of the new versions include modern symbols of something lucky. These can be golden coins or dollar signs followed by fruit, fruit, and more fruit! And unlike the British version that is somewhat similar, the Pub Fruity is much more involved to play than a classic pokie.
Online pokies tend to have characteristic funny titles which follow the tradition of 3-reel slot games to be remembered easily. Titles such as: 'Ski Bunny' or 'Couch Potato' Cash are popular expressions that describe personality types. While a title like: 'Cash and Curry' is similar to the expression Cash and Carry.  Even the name: 'Apocalypse Cow' is borrowed from the film title Apocalypse Now. As whimsical as these game titles may be, the whole point of playing is always based on very simple rules. There are really no extras found in a 3-reel slot, so finding a bonus game or special symbols is fairly rare.
How to play a classic pokie may vary from game to game, though one thing is certain. The 3-reel pokie has always a single winning line. Matching 2 or 3 of the same symbols on that line will surely return a payout. There are exceptions when more than one payline is offered. You might have as many as 1 to 5 paylines that can be wagered upon. Each line will allow a single coin or a double coin bet. Coin denominations also range depending on how much the coin bet is wagered. Come and discover which kind of classic pokie that fits your style.
Mentés
Mentés