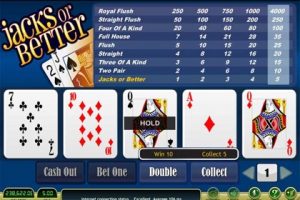 Poker is a one of those games that you either love or hate. Many people such as myself have no desire to go head to head with a bunch of other guys sitting at a table. On the other end of the spectrum, there are those who love the live poker experience and can't get enough. Poker is the only casino game where your adversary is the person sitting across from you, rather than the "House".
For those who would like to give poker a crack without the personal interaction of other players, there is Video Poker. This game can be played both online (at Fair Go for instance) and at land-based casinos and has found a whole new group of enthusiastic players.
Video Poker is the Compromise Poker Experience
What exactly is Video Poker?
A Video Poker game is similar in size and style to a land-based pokie machine. They are usually stand-alone machines that instead of providing slot games, offer Poker in a video format. Although not as popular online or land-based pokies, video poker has found a niche with those who are not ready to sit down and play face to face but still enjoy the pace and style of game play.
Why is Video Poker so Popular?
One reason for the popularity of this online and land-based casino game is that it offers great returns as well as ease of play. These video poker games are what we would call "idiot proof" which means that any one with an IQ above 70 is able to play. I consider my self in this group as I refuse to play poker at a table and would rather try my luck on a machine.
As far as returns, Video Poker is known for its impressive payouts, various ways to win and a huge selection of poker type games. With all games at the pokie place and online casino, the odds are always in the favor of the "House", but video poker seems to have a reputation for better and/or higher payouts. I can't document these claims, but if Australian and other players are feeling the returns, then I would say give it a crack.
Ease of Play and Manageable Pace
We can all agree that Poker Games at the table with a bunch of people drinking and smoking looks appealing and somewhat cool. Whether its in a saloon of the 19th century Wild West or some slick casino with Matt Damon, Brad Pitt and George Clooney staring each other down, it is no doubt hip. The problem for some of us is that it can be a bit intimidating and push us away from engaging.
Video Poker has made it easier and more manageable for those of us who would rather do without the drama of the table and just play some poker and win some money. Not only are you playing a simpler version of the game, you are not intimidated by the stares and looks of the other players trying to figure out which cards you are holding.
These Video Poker machines consist of you and the computer and substitutes the pros from the table to a random computer who is your adversary. The computer doesn't give you odd stares and doesn't reek of a two-day old cigar. If your one not to stand in front of a giant video screen, there are table video poker games which are usually set up at the casino bars. It's a great way to kill time when you're waiting for your buddies or trying to pick up a high class "lady" of the night.
Video Poker for Online Play
Online Video Poker is one of the top games at online casinos in Australia and the rest of the gambling world. There are those poker sites that do have "table" poker where other players are involved, but this is nowhere near the same experience as playing at a poker table at a casino.
The Video Poker which is offered online provides the ability to have close to 100 different types of poker games available. Games such as Classic Single Hand, Double Down Stud Poker, Extra Action Poker, Multi-Strike Poker, Wheel Poker with Quick Quads, and a ton of other games based on Poker. Its crazy to think of the options but it is no doubt a great way to spend your time and money online.
Most online video poker games can be played for free, but the real action starts when you are spending a bit of your money looking for that great hand. But don't take my word for it, check out our casino to see where the action is online.