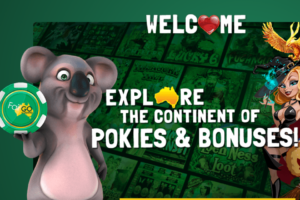 NDB – With the Australian online casino market becoming ever more crowded, casinos are bringing out the big guns to get an edge over the competition. Its not just the casinos games that are being tied to the quality of a casino, but what the it offers in terms of Bonuses and Promotions. For Australians, this is sometimes the defining issue which makes one casino more attractive over another. We will discuss some of these bonuses as well as the online casinos that offer them.
To qualify for these Promotions and Bonuses, players must be registered, signed-in, and playing for real money. As many of these casino bonuses include "matching deposits" it is necessary to have some real money on the table. This applies to the Jackpots as well, which is another way to make loads of cash in a short period of time.
What are some of the Deposit Bonuses at Australian Casinos?
Fairgo, Uptown Pokies, Woo, Oshi, and Playamo are just some of the top casinos looking to gain your trust and loyalty. You would be surprised at how many substandard casinos there are online, and how badly you can get hurt, financially speaking. If you find casinos such as the above mentioned it is a good idea to stick with them before you decide to take a chance on a questionable site.
Fair GO casino is probably the most popular of the Australian facing online casinos. Fairgo casino is pretty cut and dry without trying to over do it with a garish homepage or cheap tricks. The Bonuses and Promotions are numerous as well as diverse. On top of the generous Welcome Bonus of up to $1,000 which is redeemable up to 5x, there are about 8 other bonuses which are always changing and focusing on the recent holiday.
| | | |
| --- | --- | --- |
| Bonus Type | Bonus Code | Bonus Value |
| Welcome Bonus | WELCOME | $1,000 Bonus |
| Game of the Month | GOTM1810 | 100% Bonus + 50 free spins |
| | | |
| --- | --- | --- |
| Bonus Type | Bonus Code | Bonus Value |
| 200 Zombies Spin | 200ZOMBIESWIN | 100% 1st Match 2nd 150% |
| 100 Witch Spins | WITCHESWIN-2 | 100% 1st Match Bonus |
| | | |
| --- | --- | --- |
| Bonus Type | Bonus Code | Bonus Value |
| First Deposit Bonus | FIRSTDEP | 100% up to 100 frees spins |
| Second Deposit Bonus | SECONDDEP | 50% up to 50 free spins |
FairGo also capitalizes on its mascot "Kev the Koala" and incorporates many of its bonuses through him via the "Koala's Diary". Just during Halloween for example, the Koala's Diary provides and extra 4 bonuses on top of all their others. There is also a VIP Bonus program which enables loyal players to take advantage of all their game play.
Of all the online casinos Fair GO truly knows its market, which is why Australians make it the most popular. Pokies, Casino Games, Jackpots, Bonuses, Bonus Codes, Banking (Poli, Neosurf, MasterCard Visa, Bitcoin, Bank transfer) all make it attractive for any type of player.
Other Online Casinos Attractive to Australian Players?
The other 3 Australian facing and popular casinos all provide their own take on what Aussies want as well as what they think they need. Consider Oshi Casino (Oshi: in sumo wrestling a move in which an opponent is pushed backwards or down) a name which obviously focuses on the Japanese and Asian market although its popular in Australia.
A basic casino with very good games and is easily managed by the basic features and functions. The VIP Program is very attractive as it has 4 Tiers (Cashback, Bronze, Silver, Gold) and some lucrative rewards commensurate with your Tier and level of play.
The Bonuses and Promotions are basic although it provides bonuses for your first 4 deposits which can be used in many currencies and other payments. Their Reload Bonus offers a Match Bonus as well as Free Spins which change every day. No Bonus Codes are necessary for these, so you can jump right onto these offers and make some more money in real money play.
No Deposit Bonus Code Casinos
Everyone likes something for nothing, and Australian online gamblers are not immune to this desire. The reality is that this is a great way to attract new players to a casino, although if the casino is not up to snuff, it is a waste of time. Australian casinos provide these no deposit codes and some great bonuses and promotions.
Uptown Pokies provides $10 for free as well as a many other bonuses when you make a deposit. There are also promos and bonuses on the top card games as well as their roulette games. Believe it or not, there are those gamblers who enjoy the other exciting casino games besides Pokies.
Playamo Casino takes a different route with their no deposit bonuses focusing on the free spins. On select games such as Boomanji there is the 25 free spins for those who wish not to make a deposit. A lot can happen with 25 Free Spins which makes these option so popular with Australian players.
Australian Casinos and Popular Banking Options for Bonuses
As I always say in discussing real money online casino play is that if you can't deposit and withdraw your money from your bonus win in a timely and safe fashion than there is no point in playing. Casino banking methods throughout the world have taken a big hit in the past and recently. Many countries use strict rules and regulations to curtail or even stop real money play. Credit Cards, Debit Cards, Bank Transfers, Crypto-Currencies, Online Payment Systems and the like have all felt the pressure from governments.
Australia has not been immune to this, although many of the Online Casinos and Payment Companies have adapted through legal means. This has enabled online gamblers to enjoy their play while based and living in Australia. With a diverse range of options Australian players and casinos can continue their progress in creating a more streamline relationship and process.
Here is a partial list of Banking Methods that are used at Fairgo, Uptown Pokies, Oshi Casino and Playamo as well as others.
| | | |
| --- | --- | --- |
| Visa | MasterCard | Poli |
| Bitcoin | Neosurf | BPAY |
| Neteller | Bank Transfer | Ethereum |
On top of the rules and regulations of Australian, many of these payment methods have their own criteria for use in Withdrawals and Deposit. Before you register at a Casino with a specific payment method, be sure to check the terms and conditions with the provider.
Australian Online Casinos have the best no deposit bonuses?
This is hard to say, but what I do know is that Australia has the largest gambling population per capita in the world. Australian casinos understand their players and their love of Bonuses and Promotions. They sometimes gear their sites to these Bonuses although realize that Pokies are what really excites Australian players, and these are usually the priority before Bonuses. Either way Australian online casinos provide a ton of fun and if you play the above-mentioned casinos, you will not be disappointed.